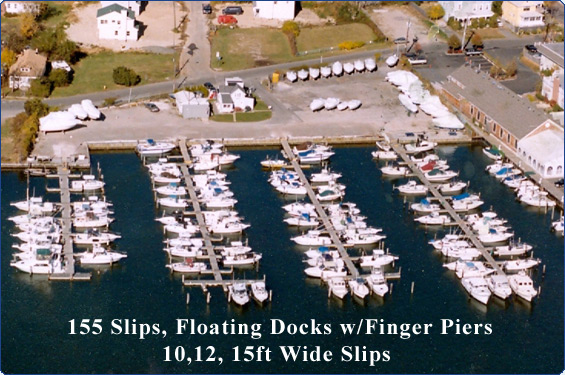 A Family Oriented Sportfisherman's Haven

All of our docks are floating (rise and fall with the tide) so that your boat is always at the same height to the dock. No need to climb aboard on high tide or jump down on low tide. The finger alongside the boat allows you to access directly into the cockpit without having to climb over the outboard or bow rail.
Restrooms are available 24 hours a day, 7 days a week. A public phone is also available 24 hours a day
With our two parking lots parking is not a problem. And for those staying out overnight or for the weekend you can be assured your car is secure while you are away.
Our facility is fenced on three sides open to the water, and the entrance gates are locked at night All of our dockage customers receive an electronic key so you have 24 hour access. We have had the best reputation in the area for security.
Some of the benefits that may be derived from being a Burnett's Member.
Member Discounts on Bait & Tackle

Picnic, Barbeque area

Seasonal fishing contests

Sharing experiences with some of the best fishermen on the south shore
Last but not least, being with some of the nicest people you could meet
Winter Dry Storage on premises
Now Accepting Applications for the 2022 Season!

Call for Details (631) 665-9050
Dockage Availability to 40 Feet


*Rates for 2022*

Up to 25 Ft.
$100/Ft.
26 to 29 Ft.
$110/Ft.
30Ft and over
$120/Ft

*plus $10/Ft electric fee where applicable